Specification:
Capacity (mĀ³/h): 32.4-72
Head (m): 6-58
Speed (r/min): 1200-3200
Max. Efficiency Ī·%: 45
NPSH (m): 3.5-8
Allowable Max. Power (Kw): 15
Description:
The HS type pump is the single stage, end suction, cantilevered, heavy duty, horizontal centrifugal slurry pump. The wet parts components are casted of high chrome alloy, SA05, 27%, ASTM532. They are able to maintain good hydraulic performance even when the pump is subject to severe wear. Its discharge outlet has 8 positions at 45 degree intervals that can me selected to meet the installation and application requirements.
Three Shaft Seals Types:

Packing Seal
As one of the most commonly used seals for rotating shafts, the packing seal can come with low-flush or full flush arrangement which uses flushing water to prevent media from escaping the pump housing. This kind of seal is suitable for use under all pumping conditions. In situations where corrosive solids or high temperature might be encountered, Teflon or aramid fiber is used as the packing material for the gland. For high abrasion conditions, a ceramic shaft sleeve is available.
Centrifugal Seal-Expeller
The combination of impeller and expeller creates the pressure needed to seal against leakage. Together with the gland seal or lip seal which is used as the shut-down seal, this type of seal can handle sealing requirements for applications where full-flush gland seal is impractical due to lack of water on the site, or sealing water is allowed to enter inside the pumping chamber to dilute the slurry.
Mechanical Seal
HS series heavy duty slurry pump utilizes a leak-proof mechanical seal design which allows easy installation and replacement. Other types of mechanical seal are among options to suit the slurry pump for various pumping applications.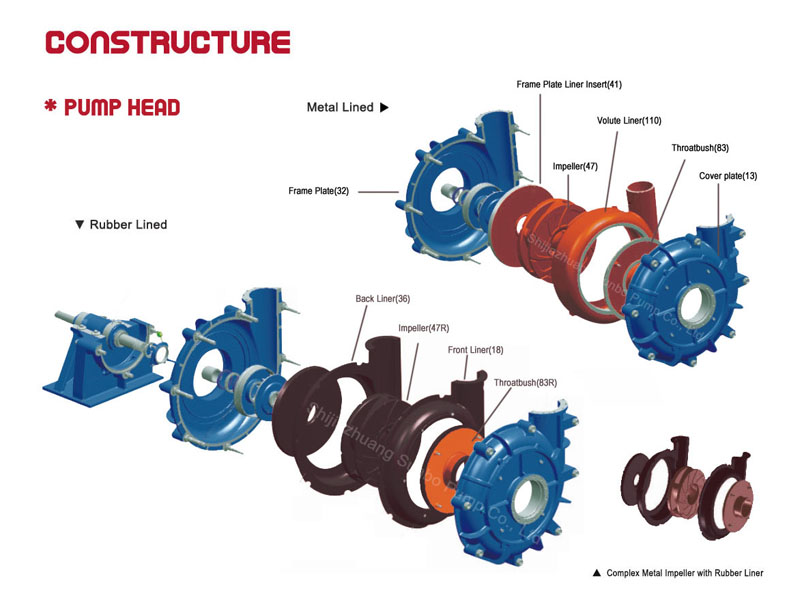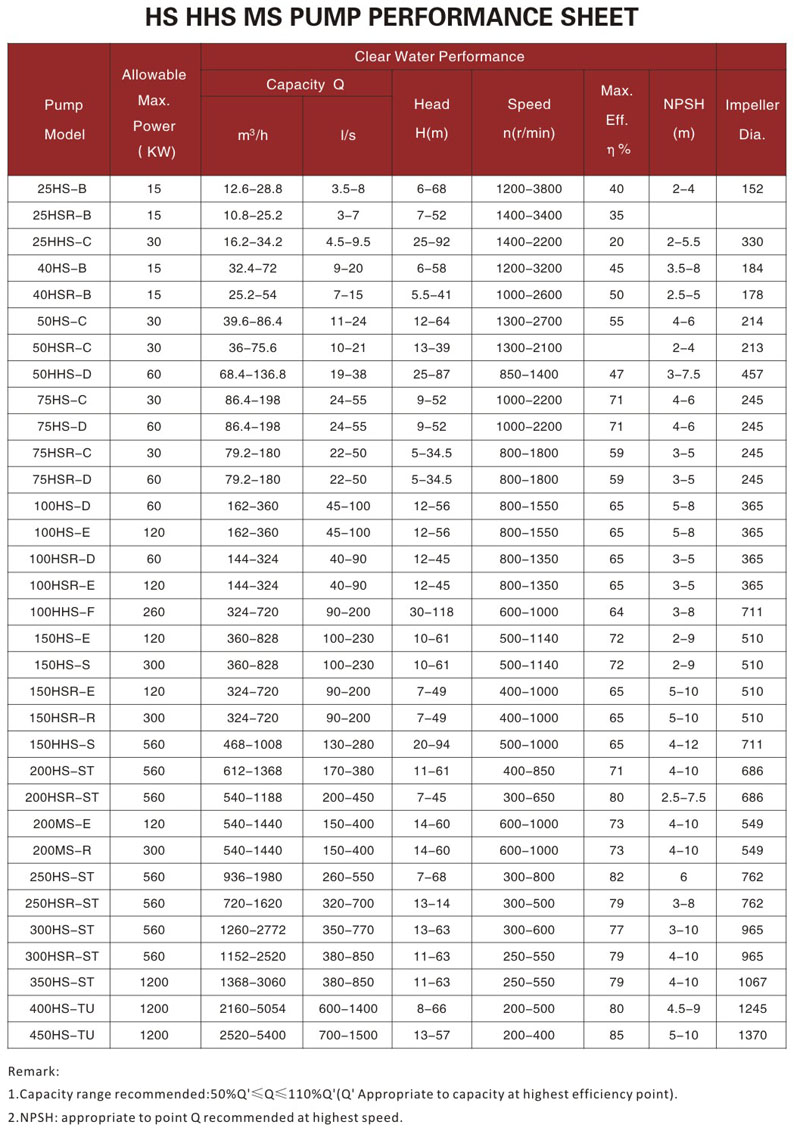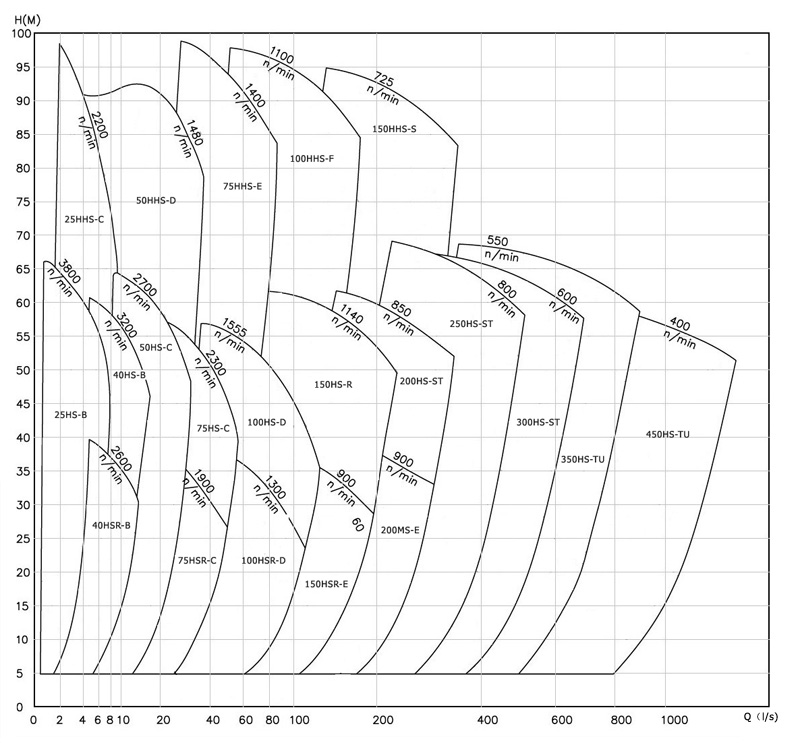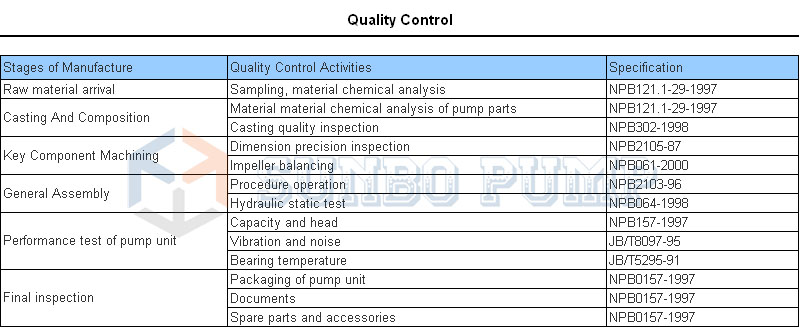 Applications
HS series Centrifugal Heavy Duty Slurry Pumps are designed for handling highly abrasive, high density slurries in metallurgy industry, mining industry, coal, power, chemical, building material and other industrial departments. The pumps of these models also can be installed as multi-stage series.
This series centrifugal slurry pumps used as, Booster pump, De-Watering Screen Pump, Tailings Pump, Metboom Pump, Feedprep Pump, Scavenger Feed Pump, Re-Cleaner Pump, Ball mill discharge Pump, Ruffer Feed Pump, Transfer to feedprep Pump, Metboom Return Pump, Thickner Underflow Pump, Thickner Tailings Pump, Thickner Underflow Pump, Rinse Pump, Dilute Pump, Re-Cleaner Pump, Rougher Feed Pump, Tailings booster Pump, Mill slurry Pump, Mill feed water Pump, Disc filter basin flushing Pump, Mixing tank slurry Pump, Gas cleaning slurry Pump, Windbox slurry Pump, Pellet hand scrubber slurry pump, Process recycle Pump, Scrubber slurry Pump, Prop pellets undersize Pump, Screen feeder Pump, Furn disch scrubber slurry Pump, Cosmetic recycle water Pump, Backwash Pump, Venturi scrubber slurry pump, Clarifier underflow pump, Pipeline transfer pump etc.